moeller architekten bda - profile
interior view studio building
exterior view studio building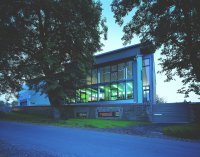 exterior view studio building
floor plan studio building
"in all tasks given to us i tried to develop the constructional body and the space inside the space. in order to fulfil this task i have to search for design concepts within the given task, within their materials and within the playful vagaries of the lighting"
- charly moeller
the studio of architecture, design and art was founded in 1986. i understand my work as a permanent process of learning, developing and restructuring until a quality execution and detailed solution are given as a result. individual and skilful supervision whilst planning and executing is the main goal in order to satisfy the contracting clients. during the performance of the tasks the main focus is on meeting formal, timeline and cost efficient requirements for the coordination in order to fulfil effectively all planning and execution tasks of the project steps.by using computer aided planning and cost controlling the studio realizes projects for private and public clients in order to respond individually to all of their specifications.
scope of activities
planning and construction supervision
project development
expert's reports / project studies / site analysis
preservation of monuments and historic buildings (buildings, cities, landscape)
super national construction / cooperation with international partners
energy-saving planning
competition preparation and competition participation of all kind
provide energy passes (introduced in 2006)
facility management
emphasised tasks
domestic construction
office buildings (industrial, commercial, public service)
buildings for medical and social facilities
buildings for cultural, sportive and recreational purposes
public service buildings and infrastructure
municipal construction
furniture and object design
exhibitions "architecture, art and design"
the following authorship applies to the objects shown on this web site:
created during june 1993 to december 2002, architektur-, innenarchitektur- und staedtebauatelier "moeller and wald", architekt franz-karl "charly" moeller, elmar wald and architekt onderka, created during january 2003 to september 2005, omw gmbh, onderka-moeller-wald architekten bda.
for further details please refer to the reference list.